About Us
Kurdistan Restaurant is a Mediterranean takeaway in Hull. Why don't you try our Lamb Shish Kebab or Chicken & Chips?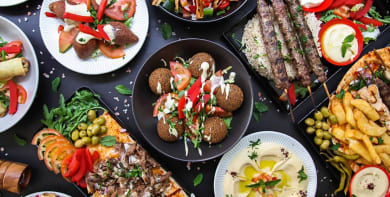 Reviews
177 reviews
Jordan
"Beautifully presented, kebab, soup combo worked really well! Only thing that let me down was the pakora, dry and bland."
06/05/2020
Carl
"Portions where massive and meat was cooked perfect. Couldnt recommend enough!"
05/05/2020
Chico
"Excellent as usual! My fave takeaway"
01/05/2020
Anam
"Was still hot when arrived which was really good."
30/04/2020
Menu
Chillo Kofte Kebab Biryani
Full portion
2 Skewers of grilled lamb minced kebabs biryani & grilled tomato
£10.50
Chiloo Chicken Tikka Biryani
Full portion
2 Skewers of grilled chicken tikka pieces kebabs, biryani & grilled tomato
£10.50
Chiloo Lamb Shish Biryani
Full portion
2 Skewers of grilled pieces of lamb kebabs, biryani & grilled tomato
£10.50
Chiloo Minced Chicken Biryani
Full portion
2 Skewers of grilled minced chicken kebabs, biryani & grilled tomato
£10.50
Chiloo Chicken Wings Biryani
Full portion
2 Skewers of grilled chicken wings & biryani
£10.50
Chiloo Mixed Biryani
Full portion
3 Skewers of grilled chicken tikka, lamb tikka & Kurdish kofte kebab, biryani & grilled tomato
£12.50
Jajik
Yoghurt, cucumber, garlic & mint
£2.00
Hummus
Chickpeas with puree, sesame paste (tahini) & fresh lemon juice
£2.50
Portion of Vegetable Samosas
3 seasoned vegetables in a hand folded crispy pastry
£3.00
Portion of Chicken Samosas
3 minced chicken, onion & vegetables in a hand folded crispy pastry
£3.00
Greek Salad
Lettuce, cucumber, tomato & feta cheese
£3.00
Kurdistan Salad
Lettuce, cucumber, tomato, lemon juice & pomegranate juice
£3.00
Onion Bhajis (4)
Deep fried onions in a mildly spiced batter mix
£2.00
Chicken Fillet Pakora
Chunky chicken breast coated in a spicy turmeric coloured battler & then deep fried
£2.00
Sweet Chilli Skewer Chicken
Deep fried mince chicken & onions fused with sweet & chilli flavour
£2.00
Potato Cutlet (Aloo Tikki)
Deep fried sweet & chilli flavoured potato mixed with ghee, coconut, raisins, herbs & spiced dipped in a spicy turmeric coloured batter
£2.00
Honey Pot
Dairy ice cream with nut pieces, glazed almonds & honey
£3.00
Crazy Zoo
Creamy vanilla ice cream & milk chocolate egg surprise
£1.95
Coconut Supreme
Coconut ice cream in a half coconut shell with coconut pieces
£3.00
Strawberry Goblet
Strawberry & cream ice cream with strawberry sauce
£3.00
Fresh Kurdish Curry Potato
£1.50
Fresh Kurdish Curry Spinach
£1.50
Fresh Kurdish Curry Tapsi
£1.50
Chicken Masala (Indian)
Full portion
Served with biryani & lentil soup or meat soup, salad & 2 x naan
£8.00
Lamb Masala (Indian)
Full portion
Served with biryani & lentil soup & salad & 2 x naan
£8.50
Cheesy Chips
Freshly fried chips smothered in fresh cheese
£2.50
Chicken Biryani
Full portion
Steam roasted chicken & biryani served with vegetables, raisins, rice
£8.00
Lamb Biryani
Full portion
Steam roasted lamb & biryani served with vegetables, raisins, rice
£8.50
Vegetarian Biryani
Full portion
Extra vegetables & egg, biryani served with vegetable, raisins, rice
£7.50
Teshreeb
Full portion
Steam roasted lamb in a special sauce - a very rustic speciality served with a choice of meat or lentil soup, salad & naan
£7.50
Whole Chicken
Full portion
A full steamed roasted chicken, served with a choice of meat or lentil soup, salad & 2 x naan
£7.00
Chicken Kofte Kebab Full Portion
4 Skewers of grilled chicken kebabs & grilled tomato. Served with a choice of meat or lentil soup, salad & fresh naan
£9.50
Chicken Kofte Kebab Half Portion
4 Skewers of grilled chicken kebabs & grilled tomato. Served with a choice of meat or lentil soup, salad & fresh naan
£6.50
Kurdish Kofte Kebab Full Portion
4 Skewers of mince lamb kebabs & grilled tomato. Served with a choice of meat or lentil soup, salad & fresh naan
£9.50
Kurdish Kofte Kebab Half Portion
4 Skewers of mince lamb kebabs & grilled tomato. Served with a choice of meat or lentil soup, salad & fresh naan
£6.50
Chicken Tikka Kebab Full Portion
4 Skewers of grilled chicken tikka pieces & grilled tomato. Served with a choice of meat or lentil soup, salad & fresh naan
£9.00
Chicken Tikka Kebab Half Portion
4 Skewers of grilled chicken tikka pieces & grilled tomato. Served with a choice of meat or lentil soup, salad & fresh naan
£6.50
Lamb Shish Kebab Full Portion
4 Skewers of grilled lamb pieces & grilled tomato. Served with a choice of meat or lentil soup, salad & fresh naan
£10.00
Lamb Shish Kebab Half Portion
4 Skewers of grilled lamb pieces & grilled tomato. Served with a choice of meat or lentil soup, salad & fresh naan
£6.50
Mixed Kebab
4 Skewers
Full portion
Chicken kofte, lamb kofte, chicken tikka & lamb shish. Served with lentil soup, salad & fresh naan
£10.00
Special Mixed Kebab
Grilled lamb & chicken pieces, lamb kofte & chicken wings kebabs
(5 skewer & chicken mince skewer) Served with a choice of meat or
lentil soup, salad & fresh naan
£12.00
Chicken Wings Full Portion
4 skewers of grilled chicken wings. Served with a choice of meat or lentil soup, salad & fresh naan
£9.00
Chicken Wings Half Portion
4 skewers of grilled chicken wings. Served with a choice of meat or lentil soup, salad & fresh naan
£6.50
Chargrilled Sea Bass (Fresh Fish)
Full portion
Whole fish served on the bone with chips or rice, served with a choice of meat or lentil soup, salad & fresh naan
£9.50
BBQ Ribs
Full portion
Slow cooked lamb ribs served with chips or rice, served with a choice of meat or lentil soup, salad & fresh naan
£7.50
Tandoori Chicken
Full portion
A full charcoal grilled chicken served with a choice of meat or lentil soup, salad & 2x fresh naan
£8.00
Lamb Chops (6)
Full portion
Grilled lamb chops & grilled tomatoes with chips or rice, served with a choice of meat or lentil soup, salad & 2x fresh naan
£9.50
Chiloo Lamb Shish
Full portion
2 Skewers of grilled lamb pieces kebabs, rice & grilled tomato
£10.00
Chiloo Minced Chicken
Full portion
2 Skewers of grilled minced chicken kebabs & rice
£9.50
Chiloo Chicken Wings
Full portion
2 Skewers of grilled chicken wings & rice
£9.50
Chiloo Kofte Kebab
Full portion
2 Skewers of grilled minced lamb kebabs & rice
£9.50
Chiloo Chicken Tikka
Full portion
2 Skewers of grilled chicken tikka kebabs, rice & grilled tomato
£9.50
Chicken Kouzy
Medium
Steam roasted chicken & rice
£8.00
Lamb Kouzy
Medium
Steam roasted lamb & rice
£8.50
Mixed Meat Kouzy
Medium
Steam roasted chicken, lamb & rice
£8.00
Kids Fish Fingers, Chips & Salad
£3.50
Kids Chicken Nugget, Chips & Salad
£3.50
Kids Foga
Shredded chicken topped with rice & beans
£2.75
Contact Us
Find Us
181-183 Spring Bank, Hull, HU31LP
We deliver to
HU1, HU10, HU13, HU2, HU3, HU4, HU5, HU6, HU8, HU9